Sexual health is vital for women, and women experiencing sexual dysfunction can cause reoccurring problems with sexual response, orgasms, and romantic relationships. At May-Grant OB/GYN, our team can treat sexual dysfunction through multiple approaches.
What is Sexual Dysfunction?
Sexual dysfunction refers to problems that cause issues with having a healthy sex life. Despite its prominence, sexual dysfunction is less commonly discussed in women's healthcare. While most forms of sexual dysfunction refer to men, sexual dysfunction affects about 41% of premenopausal women worldwide, and about 77% of postmenopausal women develop sexual dysfunction due to vaginal atrophy.
Sexual dysfunction in women can be caused by various factors but can be traced down to at least four issues:
Poor Sex Drive: Poor sex drive can become a problem when you're worried about your sexual activity and repeatedly do not want to engage in any sexual activity. Medications, underlying medical conditions, and hormonal changes such as menopause can cause low sex drive. Mental health problems like depression, anxiety, stress, and relationship problems can also affect your sex life.
Sexual Arousal Disorder: Sexual arousal disorder refers to a lack of sexual stimulation response or inability to maintain arousal. Sexual arousal disorder can exhibit emotional and physical symptoms caused by low estrogen levels, vaginal atrophy, heart disease, and mental health disorders.
Painful Intercourse: Also known as dyspareunia, painful intercourse commonly occurs during and after menopause, which can cause vaginal atrophy. However, this problem can also occur in women with pelvic inflammatory disease, uterine fibroids, endometriosis, and other gynecologic conditions.
Orgasmic Disorder: Orgasmic disorder is rare but does occur in about 18% of women worldwide. Orgasmic disorder is when you can't achieve orgasm or experience minimal orgasms. This disorder can develop from other problems, such as stress, anxiety, relationship problems, and even underlying conditions, such as pelvic nerve damage.
Treatments For Sexual Dysfunction at May-Grant OB/GYN
Sexual dysfunction can encompass many aspects of your life, impacting your relationships with yourself and your partners and leading to problems with day-to-day life. Our practice can treat sexual dysfunction in women and help women overcome their symptoms through effective treatments, including:
Hormone Therapy: Women with low estrogen levels may benefit from estrogen therapy, which can help benefit sexual function by improving blood flow and lubrication.
Vaginal Moisturizers/Lubricants: Our team can provide women experiencing vaginal dryness from the effects of menopause prescription lubricants to treat their discomfort and help improve stimulation during sexual intercourse.
Antidepressants: Some antidepressant medications to treat depression and anxiety can help alleviate the psychological symptoms associated with sexual dysfunction.
Medications: In other cases, prescription medications such as Osphena, Addyi, and Vylessi can provide ways to treat low sexual desire in perimenopause and menopausal women. For more information about these medications, please schedule an appointment with our physicians to learn more about your options.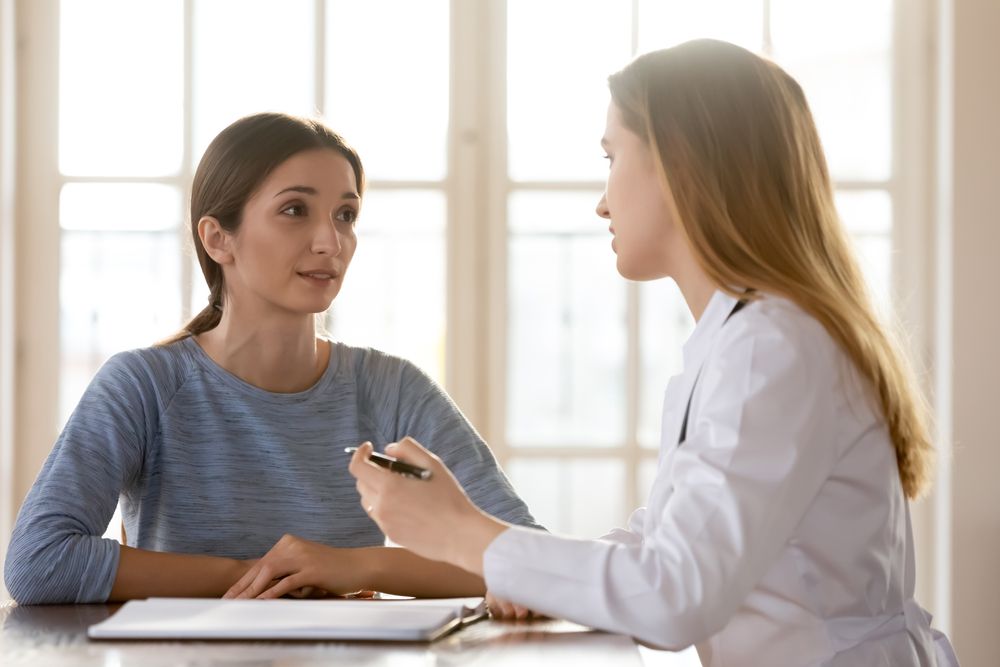 At May-Grant OB/GYN, we offer in-house diagnostic and treatment options for women experiencing difficulties with their sexual health. We have seven locations across the Lancaster, PA, with extended early morning, evening, and Saturday hours to help patients improve their sexual and women's health. As our community's number one individual practice, we are here for you. Contact May-Grant OB/GYN today to schedule an appointment in person or online.